Aldrtz is a reputable company, primarily engaged in the manufacture, distribution and marketing of essential healthcare products. It maintains a fully accredited 8,000 square meter warehouse and head office in Bacolod City, with satellite offices strategically located in various key cities.
Aldrtz is a 100% Filipino owned business enterprise duly registered with the Securities and Exchange Commission and licensed to operate as Food Distributor/Wholesaler and Manufacturer, Cosmetic laboratory and Drug Manufacturer by the Bureau of Food and Drugs (BFAD). The company is operated by a pool of competent individuals equipped with skills and capabilities in the field of management, finance, herbal medicine, pharmaceutical industry, sales and marketing.
The Men and Women of Aldrtz Corporation are a mix of young professionals and seasoned veterans, imbued with the values of integrity and excellence believing that our quality products and services promote a better life.
Aldrtz Corporation is the preferred brand in every home for better life.
We commit to satisfy our customers by bringing quality, innovative, and value-for-money products and services to every home.
Aldrtz Corporation's history rooted on the year 1992 as a company which started its business as a small fertilizer distribution known as Philgribiz. With continuous striving for excellence, Philgribiz was changed into Agrowide Products and was renamed as of 1997 as Aldrtz Healthwide Products Industries (AHPI) where products distributed shifted from fertilizers into herbal food supplements and health products. From then on the company grew from the initial 3 founders to around 18 employees. In 2002, AHPI expanded from 18 to 45 employees and transferred to its current location in Alijis Road, Bacolod City. Year 2003 was a significant milestone as the company established its core values and codified its first Vision and Mission Statements committing to its goal of quality, innovation and health for better life.
In 2004, AHPI was reborn as Aldrtz Corporation with 70 employees and its operations now covered major parts of Mindanao and several provinces in Luzon. In 2006, company on site employees numbered at around 100 not counting field personnel, marketing officers, district sales supervisors, and the employees of its distribution division in Luzon and Mindanao. By the end of 2006, Aldrtz Corporation had formally covered Luzon, Visayas, and Mindanao in its scope of operations and had strengthened its distribution network to cover sub distributors in all the provinces nationwide.
Business development in 2009 also saw the birth of Aldrtz sister companies and subsidiaries. 2010 was a year of further business expansion and opportunity for Aldrtz. Its sister companies and subsidiaries were now effectively the ALDRTZ GROUP OF COMPANIES under the management of ALMANA or Aldrtz Management – Nationwide, a management system and team tasked to develop, grow, and ensure success in the different Aldrtz Companies in the Philippines.
2013 was the year for expansion, not only for sales but also for marketing and business operations. Aldrtz officially became a SALES and MARKETING company focusing on the Marketing and Distribution of products. It began to turn around its business performance to positive profit growth.
2015 is the REMARKABLE year for Aldrtz Corporation as it was now fully a Sales and Marketing Company. Aldrtz Distribution, Aldrtz Consumer and Aldrtz Industrial were officially launched by Aldrtz Corporation as three (3) new divisions handling specific core businesses.
At the present Aldrtz Corporation continues to expand its business in different industries while maintaining its core business in the nutraceutical and health sector. It is now a nationwide company with regional offices in Luzon, Visayas, and Mindanao. Its products are now being exported worldwide and its product line continues to expand across market categories guaranteeing a continuing business into the next decade and beyond.
All in all, it has been a short 1 ½ Decade of rapid development and change for the company. Increasing demand for quality products and the need for skilled and competent manpower has fueled the company's speedy growth and expansion from a small business venture into a distribution and manufacturing company that spans the Philippine Archipelago, to a network of interrelated companies catering to an increasing consumer need, not only for products but also for goods and services.
Continuous Striving for Excellence
We will strive to do the best, develop the best and continuously make them better.
As ALDRTZians, we will always uphold the values of honesty and integrity in our transactions and dealings with internal and external clients and serve as models to others.
We will always act with a sense of responsibility and good judgment because we are answerable to management, to our fellowmen and to God.
Mutual Respect and Professionalism
We will treat everyone with value and dignity. We will adhere to professional ethics and always show respect to others.
Profit with Social Responsibility
We will strive to build a profitable company with a social conscience; we will only produce and promote health and consumer products for better life.
Innovation and Initiative towards Customer Satisfaction
We are "imagineers." We embrace change as a sign that we are developing, we are growing and we are setting market trends for total customer satisfaction.
Open Communication and Positive Energy
We will maintain open communication lines, a positive and encouraging atmosphere within the organization and with our alliances for us to become a powerful team.
Never Stop Driving for Great Excellence
Positive results always inspire us to aim for better and greater performance. We work to deliver timely and quality output.
Sales and Service Orientation
We take pride in our being ALDRTZians, actively, we will promote our company products and services to our clients.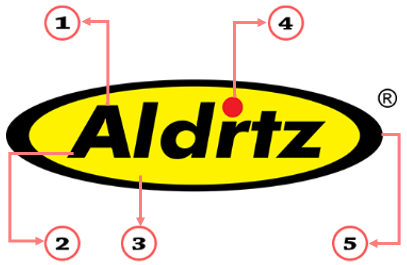 ALDRTZ – Comes from the Old English Name "Aldrich" meaning wise, experienced, a king or champion. The spelling has been modernized to reflect youthfulness and vigor. Hence, the name Aldrtz represents what our company is about: the synergism of youthful idealism and energy coupled with careful experience and wisdom. It symbolizes our commitment to our traditional core values of quality, honesty, integrity and family while at the same time, representing innovation and the power of new ideas and change.
How the Name is Written – The name is written in black because the color stands for solidity and purpose. It is written in simple block letters because our company is rooted in simple but strong values. The letters are wide to represent the strong unshakeable foundations of our integrity. They are slanted forward because they also symbolize our continuous drive for progress, improvement and growth.
Yellow Background – Yellow for the morning sun which represents hope and promise for everyone. It also symbolizes the blazing light of the torch that shows and leads the way to a brighter future for all Filipinos.
Red Dot – Red as a drop of blood. This stands to remind all of us that strong and worthy dreams require sacrifice and hard work. It also symbolizes courage, the courage to stand for what we believe in, the courage to change when needed, and the courage to face the challenges of tomorrow.
Black bordered ellipse – An imperfect circle to symbolize the family and the community around us. The bent circle stands for our unity and strength as a family and our role in the community and how adversity will bend or deform but will never break the company, our family, and our hopes. This also represents our understanding that while everything is not perfect, we are willing to go through hardship to achieve our dreams.